Choo, Choo Shapes and Colors Craft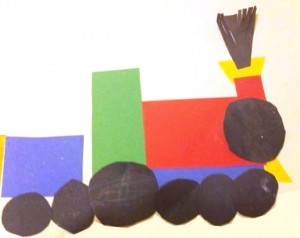 My older son is really starting to get into trains. Here is a great train craft that teaches shapes and colors.
What You'll Need
construction paper
scissors
glue stick
train template
How to Make It
Using different shapes, draw a train template (or use the template idea below). Cut all of the shapes out of different colored construction paper. I didn't have much time so I just free-cut the shapes, but you could print the template and trace the shapes. Glue the shapes together onto a white piece of construction paper to make the train.  Give your toddler directions like "lets glue on the red rectangle next" to reinforce shape and color learning.